Product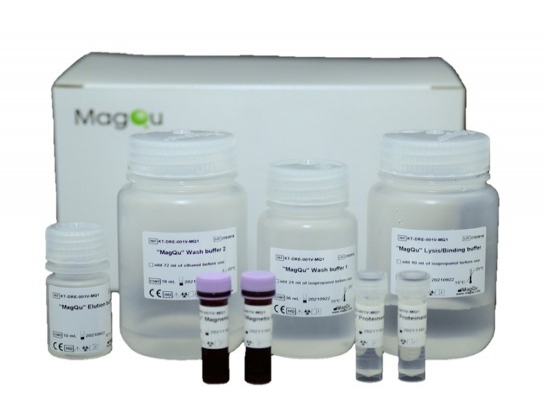 Virus DNA/RNA Extraction kit (manual)
KT-DRE-001V-MQ1
Virus DNA/RNA extraction kit
Features:
Purify the viral nucleic acid from cell-free samples by manual method
Using magnetic particle and Centrifuge-free
High efficiency and easy-to-use
Quick methods and low cost
Description
"MagQu" Virus DNA/RNA extraction kit is an in vitro diagnostic device intended to use for the purification of nucleic acid from human cell-free samples by manual method. However, the kit doesn't separate DNA from RNA. The RNA or DNA can be obtained by combining the purified material with DNase or RNase, respectively. The purified nucleic acids are suitable for downstream applications such as Real-Time PCR, PCR and other molecular experiments.
Ordering information:
| Catalog Number | Description | Package Size |
| --- | --- | --- |
| KT-DRE-001V-MQ1 | - | 1 Set (96 reactions) |
Applications:
Applications Content:

The purified nucleic acids are suitable for downstream applications included:

Applications Content:

Other molecular experiments