Product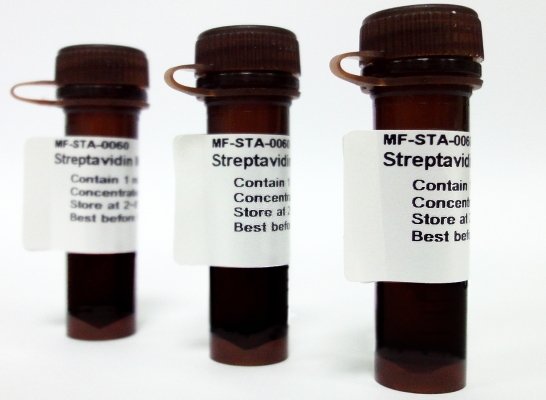 Streptavidin Magnetic Reagent (discontinued)
Catalog No. MF-STA-0030, 0060, 0090
Magnetic bead with streptavidin
Features:
Streptavidin on beads
Magnetic Nanoparticle
Dextran layer
Description
For tagging or labeling bio-molecules, adequate bio-probes, e.g. antibodies, are necessarily to be bound onto dextran on Fe3O4. The magnetic beads provide sites for bio-probes to sit on the dextran. In order to accept various kinds of bio-probes and have a high-efficiency association between bio-probes and dextran, MagQu utilizes the high affinity between avidin (or its derivates) and biotin, so that streptavidin is selected as these sites. Via coating streptavidin on dextran, the magnetic beads can bind with any kind of biotinyl-bio-probes. After mixing biotinyl-bio-probes with streptavidin coated magnetic beads, followed by magnetic separation to remove unbound biotinyl-bio-probes, bio-probes are easily conjugated onto magnetic beads.
Specification:
Mean Diameter of Particles
30 ~ 40 nm , 50 ~ 60 nm, or 90 ~ 100nm
pH-7.4 PBS with 0.09% Sodium Azide
Ordering information:
| Catalog Number | Description | Package Size |
| --- | --- | --- |
| MF-STA-0030-3ML | 30-40nm, 3 mL | 1 mL x 3 |
| MF-STA-0060-3ML | 50-60nm, 3 mL | 1 mL x 3 |
| MF-STA-0090-3ML | 90-100nm, 3 mL | 1 mL x 3 |