Product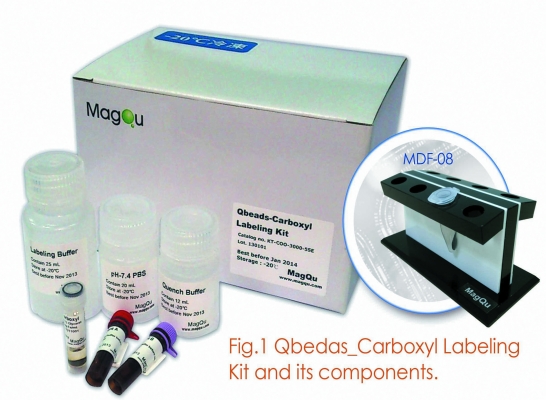 Qbeads-Carboxyl Labeling Kit
Catalog No. KT-COO-3000-5SE
Magnetic Beads (Qbeads) conjugation Kit
Features:
Covalently conjugate antibody, peptide or DNA with primary amine on carboxyl-functionalized magnetic beads
Magnetic microsphere (Qbeads)
High efficiency and easy-to-use
Description
Qbeads-Carboxyl Labeling Kit provides whole set of materials for researchers to bind the desired ligand onto magnetic beads conveniently. If only the ligand contain primary amine groups such as antibody, protein, or peptide, it can be conjugated to the magnetic beads easily. Qbeads-Carboxyl Labeling Kit comprises of the magnetic beads (Qbeads-Carboxyl) with surface functional group -COOH and all of the necessary reagents for labeling. The conjugated magnetic beads can be used for purification or depletion of biomolecules, immuoprecipitation, chromatinimmunoprecipitation, pull-down assay, and other applications.
Ordering information:
| Catalog Number | Description | Package Size |
| --- | --- | --- |
| KT-COO-3000-5SE | - | 1 Set |
Applications:
Applications Content:

Covalently conjugate antibody, peptide or DNA with primary amine on carboxyl-functionalized magnetic beads