Product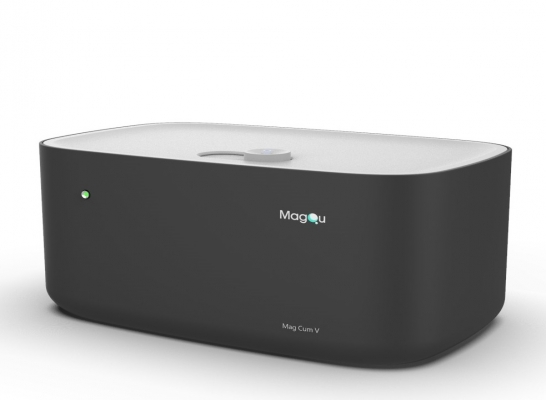 MagQuan V
Magnetic Concentration Analyzer
Features:
Rapid: 30 seconds/sample
High reproducibility: CV%<1%
Versatility: covering solid and liquid sample
Easy to use and time-saving, no pretreatment required
Sample-saving: sample can be reused after measurement
Description
Currently the instruments used to measure the magnetic concentration are either of vibration sample magnetometer, SQUID magnetometer, or inductively coupled plasma-mass spectrometer. However, these analyzers are very expensive and high maintenance costs. We specifically developed this Magnetic Concentration Analyzer (MagQuan V) to measure the magnetic concentration of samples within three minutes. MagQuan V is very suitable for material development and quality control.
Specification:
Concentration working range (Ferromagnetic materials specific)
(W) 36 cm (H) 17 cm (D) 22 cm
Connection to the computer via USB cable, Operation software platform: Windows 7/Windows 10
Ordering information:
| Catalog Number | Description | Package Size |
| --- | --- | --- |
| MagQuan V | Magnetic Concentration Analyzer | |
Applications:
Applications Content:

Magnetic fluid quantification- magnetic beads for nucleic acid purification, magnetic drug carrier, magnetic fluid speaker, magnetic fluid art and creative products

Applications Content:

Industry- materials analysis for steelmaking and powder metallurgy

Applications Content:

Oil iron content- predictive maintenance